Fabrication Features
The Perfect Blend of Comfort and Performance!
Mismiin activewear & sports apparel is made using a unique blend of materials that are carefully selected to ensure the best performance. The brand uses a combination of polyester, spandex, and nylon to create a fabric that is both stretchy and durable. The polyester helps to wick away moisture, keeping the wearer dry and comfortable during intense workouts. The spandex provides the necessary stretch for ease of movement, while the nylon adds durability to the fabric.
Eco-Friendly Approach
Mismiin's eco-friendly approach extends beyond just the fabrication process.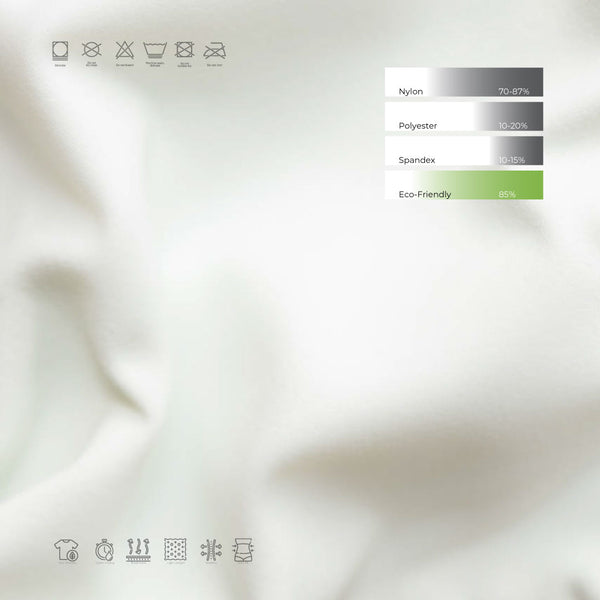 We are Mismiin
Contemporary Fashion Trend
Mismiin is a modern activewear and sports wear brand. We are dedicated to cultivating and curating the perfect balance between fashion and function. From the city streets to the gym, we strive to offer stylish, comfortable and high-performance garments that can keep up with your active lifestyle. Our mindfully modern activewear and sports wear is designed with our customer in mind.
We also offers a stylish look that can be worn both in and out of the gym. The brand offers a range of colors and designs that cater to different tastes and preferences. Whether you prefer bold and bright colors or subtle and muted tones.
starts with the selection of high-quality materials
Blend of Materials
The unique blend of materials used in the fabrication process ensures that the fabric is both comfortable and durable. The moisture-wicking properties of the polyester keep the wearer dry and comfortable during intense workouts. The stretchy nature of the fabric allows for ease of movement, making it perfect for activities such as yoga, pilates, and running.
We create
The Perfect Blend
Fabric is then knitted using state-of-the-art machines to ensure consistency and quality. The final product is a fabric that is soft to the touch, lightweight, and breathable.
We Made
Just for you
Fabric is then brushed to create a soft, buttery texture that feels great against the skin. This process also helps to wick away moisture, keeping you dry and comfortable during your workout. The result is a fabric that is both functional and stylish, perfect for any active lifestyle.
At mismiin
We Believe
Creating products that not only look great but are also made with the utmost care and attention to detail. That's why we take a quality and eco-friendly approach to every piece we create. From the materials we use to the way we craft each item, we strive to make a positive impact on both our customers and the environment.
We create
Details
Our meticulous tailored details on each piece are a testament to our commitment to excellence. We believe that every aspect of a product should be carefully considered, from the stitching to the buttons. By taking the time to focus on the little things, we ensure that our products not only look great but also stand the test of time. So whether you're looking for a new shirt or a stylish pair of pants, you can trust that Mismiin has you covered with quality products that are made to last.
We Are
Mismiin
We believe that every customer deserves a product that is uniquely crafted to meet their individual needs. In this article, we will explore the benefits of our tailored approach, the attention to detail that sets us apart, and the satisfaction that comes from owning a product that is truly your own. So, let's dive in and discover why our tailored products are the perfect choice for you.